In this page you will find the meetings that we had in our first year, 2016.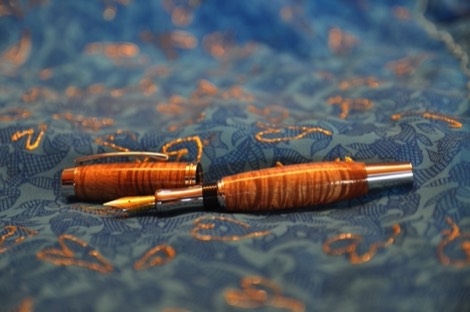 First Meeting!! February 23rd 2016
Our first ever meeting!!
21 club members watched club president Emiliano Achaval, turn a basic Koa bowl on his Stubby S750 lathe. With emphasis on showing how to cut the Koa end grain cleanly. Emiliano used the "Ellsworth Signature gouge" to do all the finishing work.
Second Meeting, March 24 2016
Master Pen Turner and Maui Woodturners Association club member Steve Fraga gave an excellent pen turning demo at your new meeting location, the community service building of the University of Hawaii.
Third Meeting, April 18th 2016
Honolulu Master woodturner, Andy Cole was our first off island demonstrator. He spent the day with us at Emiliano's new studio, in Makawao, upcountry Maui. HIs mastery of the McNaughton system and nested bowls are simply amazing. He is a skilled turner and an even better demonstrator. His demo was great, fun, and with lots of turning tips. We would love to have Andy Back!!
Fourth Meeting, May 14th 2016
Big Island master woodturner, Mark Stebbins , owner of Big Island Engravers, was our fourth demonstrator. His demo "Turned Bowl Repair" was attended by 13 club members. Mark sells laser cut Pewa patches of different sizes, along with the correspondent templates. Several club members purchased pewa patches and also the turtle and dolphins patches.
Mark was a great, very professional demonstrator, showing great knowledge and skills. Emiliano had a Koa calabash that needed some repairs. It was used for the demo. The pewas enhanced the beauty of the calabash and added value to it. Pewas were highly regarded by Hawaiians. Mark passed around the great book about Hawaiian Calabashes, where you can see lots of examples of how the Hawaiian craftsman repaired bowls.
Another successful wood raffle was held after the demo.
Fifth meeting, June 2016.
The Maui Woodturners Association made history!! Thanks to world famous woodturner, tool inventor, teacher and demonstrator, Lyle Jamieso, from Traverse Michigan. We were the first club in the nation to conduct a documented remote, interactive, live demo!! It was an amazing experience, club members felt like they were sitting in Lyle's shop. Lyle demonstrated the entire process of making a end grain vase with his hallowing system.
Club President Emiliano Achaval wrote an article about the entire experience. Lyle wore about his side of the demo, the article is coming out soon in the Journal of the AAW. We will post here when it comes out.
Sixth meeting, the July meeting was cancelled due to a hurricane watch. We got together agan in August 26th, at the studio of Emiliano Achaval.
7th Meeting!! A milestone for the club. We hosted one of the world's best woodturners, Betty Scarpino! It was a great demo, hosted by club member Craig Furtado, at his amazing shop in Haiku.
Our 8th meeting was held at Karl Wenger's shop, in Kihei. Karl demostrated different bowl repair techniques. Wayne Omura showed us some sanding techniques .
Our 9th. meeting was held at Emiliano's studio in Makawao. We succesfully had our second Live Remote Interactive Demo!! Alan Zenreich and his wife Lauren showed us how to turn eccentric jewlery, embellishments and lots of other fun and new ideas.